Winners of the 2023 EITI Chair Awards
EITI Board Chair Helen Clark announced winners of the EITI Chair Awards in Dakar, Senegal.
At the opening of the ninth EITI Global Conference in Dakar on 13 June 2023, the EITI Board Chair, Rt Hon. Helen Clark, awarded selected countries and individuals who have shown leadership and commitment to the EITI. The EITI Chair Awards recognise outstanding contributions in furthering EITI implementation, adopting innovations, ensuring impact and overcoming constraints.
Mauritania
EITI-Mauritania was recognised for implementing innovative approaches to achieve EITI objectives. It has adopted a legal and technical framework to enable timely, systematic disclosure of information that can be easily used for data analysis. EITI-Mauritania also recently produced a report that explores the potential economic benefits of developing the country's gas and green hydrogen sectors. The country has consistently shown strong leadership from stakeholders engaged in the EITI.
His Excellency the Prime Minister of the Islamic Republic of Mauritania Mohammed Bilal Messoud received the award.
Argentina
EITI-Argentina was recognised for its collaboration with federal and provincial governments to ensure timely collection and publication of extractives data through its national platform SIACAM (Sistema Informacion Abierta de la Comunidad Minera). This effort demonstrates an innovative approach to mainstreaming transparency and accountability in government systems, so as to inform public debate and strengthen the impact of EITI implementation at the national and local level.
Pamela Morales, Director for Mining Development in the Ministry of Economy, received the award.
Ukraine
EITI Ukraine has been a leading implementer of the EITI, and has made commendable progress in overcoming challenges, capacity constraints and adversity since Russia's invasion of the country. EITI Ukraine's multi-stakeholder group continues to function, publish EITI Reports, and share good practices regionally and globally.
Olena Pavlenko, President of the Dixi Group, a civil society member of the multi-stakeholder group in Ukraine, received the award.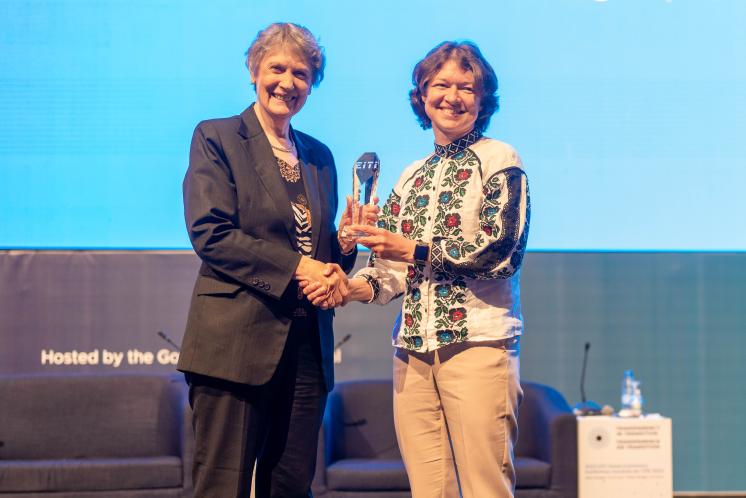 Individual awards
Hon. Awa Marie Coll-Seck, Minister of State and Chair EITI National Committee of Senegal, was recognised for her leadership and dedication to furthering EITI implementation in her region and globally. She has provided direction to the implementing country constituency, ensuring its solidified position on complicated issues while exerting efforts to accommodate diverging views. The agreement of the 2023 EITI Standard, adopted this week, benefited immensely from her leadership.
Oleksiy Orlovsky, Democracy and Good Governance Program Director, International Renaissance Foundation, a Ukraine-based civil society group, was recognised for his contributions to the EITI community and EITI Board. As a Board member, he has led the Governance and Oversight Committee, which has navigated challenging issues under his leadership. His unwavering commitment and contributions to the EITI have been an inspiration to many, especially in view of the ongoing war in his home country of Ukraine.